Daniel T. Weglarz, Esq.
Patent Attorney & IP Strategist
     Long Island patent attorney Daniel Weglarz is a life-long resident of Long Island.  He is committed to aggressively protecting his clients' intellectual property while forming a close relationship with each of his clients to ensure they are involved in every step of the process.  He believes creativity and innovation are just as much a part of intellectual property protection as they are intellectual property creation, and he always welcomes opportunities for strategy discussion with his clients.
     Mr. Weglarz is admitted to practice in New York, with admission to the Southern and Eastern District Federal Courts, and before the United States Patent and Trademark Office.  He practices in all areas of intellectual property law, including patents, trademarks, copyrights, trade secrets, and business law, and is committed to providing extraordinary service to companies small and large.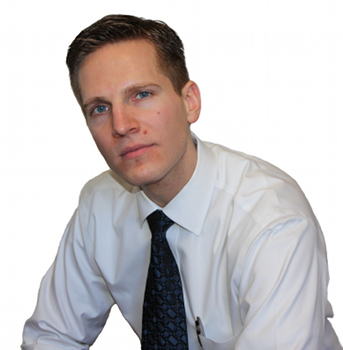 Daniel's clients include passionate entrepreneurs from various walks of life, ranging from the new solo inventor with few assets other than his intellectual property, to the billionaire business mastermind seeking to maximize his investments.  Daniel serves clients around the world, including entrepreneurs and businesses across the U.S., in Canada, South America, India, Germany, and Israel.  He has a special interest in ensuring that start-up companies and growing businesses realize the levels of growth and success they deserve.
     As an involved member of his local community, Daniel has been serving as a volunteer for the Smithtown Veterans' Youth Program since 2008, is a current board member, and serves as general counsel for the organization.
     Prior to founding his law firm, Daniel served in the Intellectual Property Law Group at Lincoln Square Legal Services, Inc., a non-profit charitable organization devoted to providing free legal counseling to low-income individuals, and was awarded the Archibald R. Murray Public Service Award for his exemplary commitment to serving the community.  Daniel later worked at Lerner David Littenberg Krumholz & Mentlik, a leading intellectual property law firm, and the IP law firm of Matkowsky Law, P.C.  At these firms, he worked on a wide range of intellectual property matters, including counseling entrepreneurs and businesses on IP protection strategies, drafting and prosecuting patent and trademark applications, performing prior art searches and trademark searches, forming new companies and auditing the business practices of entrepreneurs, drafting and negotiating business contracts, and working on patent, trademark, and business litigation matters.
     Daniel holds a Juris Doctor degree from Fordham University School of Law.  Whereas many intellectual property law attorneys receive a legal education of only one or two intellectual property law courses in law school, Daniel embarked on an intense course of study, laser-focused on intellectual property law.  He had the rare opportunity to acquire a level of legal training that only the very top patent attorneys obtain, including 11 courses in intellectual property law and work in the Intellectual Property Law Clinic, as well as serving as Associate Editor of the prestigious Fordham Intellectual Property Law Journal.
     Prior to entering the legal profession, Mr. Weglarz received a bachelor of engineering degree in mechanical engineering from Stony Brook University, where he graduated magna cum laude.  Upon graduation, he went on to work as a mechanical engineer and was awarded the Strategic Partnership for Industrial Resurgence Award for his excellence in engineering design work at an engineering firm that designs medical devices for the treatment of heart disorders.
     Mr. Weglarz is a member of the Intellectual Property Law Section of the American Bar Association and the New York State Bar Association, the Suffolk County Inventors & Entrepreneurs Club, and has had his writing published in a respected legal journal.
     Since 2001, Daniel Weglarz has devoted himself to becoming an expert in the aggressive style of Dragon Kung Fu, and brings the same level of intensity and focus that brought him success in Kung Fu to defending his clients' rights.  He also enjoys rock climbing, sailing, and cold-weather snow camping in negative twenty degree temperatures and eight feet of snow.